VITRUV
Complete your vision with custom finishes to give any space a unique personality. Vitruv is a flexible concrete finish that is hand applied. It has been specified and installed in a wide variety of interior environments. Vitruv is durable and easy to maintain.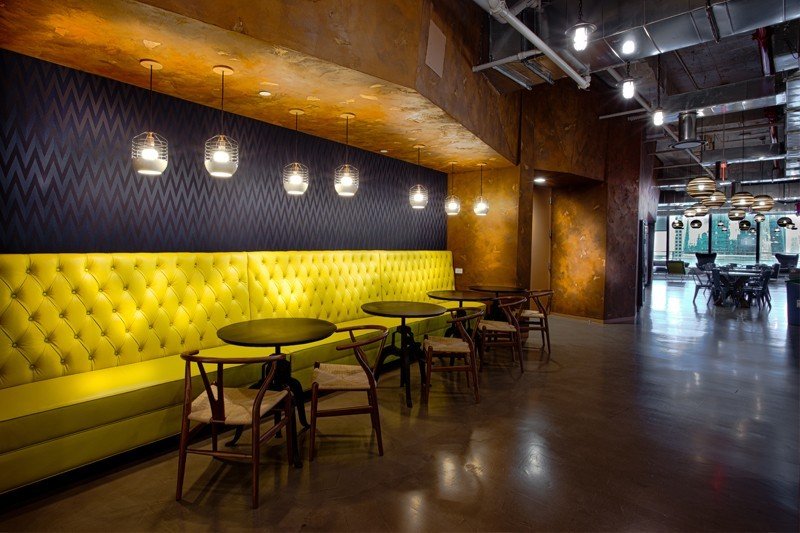 AESTHETICS
With a variety of seamless textures to choose from this troweled finish provides a continuous surface. Colors can be developed to match any existing paint or surface texture.
DURABILITY
The primary ingredient in Vitruv is cement, which makes it extremely durable. Acrylic copolymers are added to create a flexible surface that will stay intact as new construction settles.
Flexibility
Because it is troweled on, Vitruv forms easily around curves and irregular surfaces. It can create the look of metal, wood, or stone without the corresponding problems of weight, shifting, and cracking.
Vitruv Overview
Vitruv is a proprietary concrete veneer that is troweled on seamlessly to walls and ceilings. By using cement as the main ingredient along with acrylic copolymers, Vitruv is extremely impact resistant and impervious to cracking. This makes it ideal for high traffic areas. Unlike typical wall coverings manufactured as roll goods, the life of Vitruv is much longer. Vitruv is very flexible and prevents chipping and cracking (ASTM C-836). Only after 15,000 rub cycles is the substrate exposed making Vitruv one of the most durable products on the market. Vitruv is ideal for business, healthcare, education, and retail projects that sustain traffic in high visibility areas.
Our tints are integrated into the cement, so this is not simply a topical color treatment, such as paint. Custom colors can be developed from any established color palette and a variety of finishes are available.
Sustainability
Vitruv's durability reduces the need for frequent maintenance and repairs. For non-caustic cleaning use mild liquid non-abrasive soap (Dove, Ivory) diluted 75% with water. DFB has submitted our Durable Applied Surfaces to Rochester Institute of Technology's Sustainable Research Center. RIT has evaluated our Durable Applied Surfaces for Green Building Products to be specified in projects applying for LEED Certification.
Durable Wall Surfaces
Technical Documents