Textures
Carrera: Gives a faux concrete like appearance that is coarse to the touch. Try a soap topcoat for a natural feel or use tinted Clear  PD topcoat to create a high-low affect.
Buttercoat: Produces a more durable version of a true classic. This finish is applied smoothly creating a marble like appearance. We recommend a clear gloss or metallic topcoat to make this finish pop.
Shattered Matrix: A mashup of Carrera and Buttercoat, Shattered Matrix's appearance is grainy with occasional chatter marks yet smooth to the touch.
Carrera Plus: With an added layer this finish appears more textured  than Carrera, forming organic craters throughout the finish. Metallic and Bronze topcoats can be applied into the craters making a Patina effect.
Buttercoat Plus: An extra layer is added to our Buttercoat finish, displaying additional movement and texture.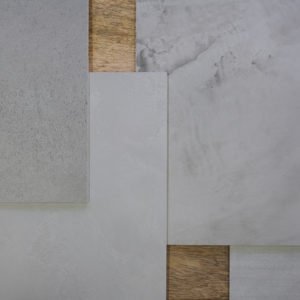 Samples are based on 8×11 inch tile. Colors can vary from monitor to monitor.
Ask your DFB sales rep for a sample tile to confirm the actual color of any finish.