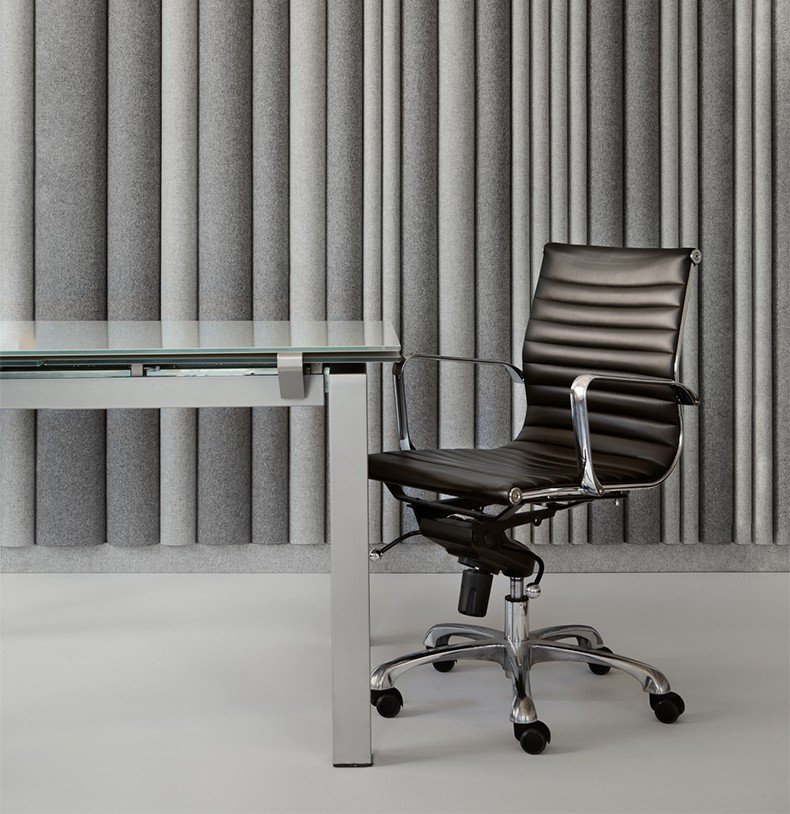 ABOUT SWELL
SWELL consists of a series of individual modular panels that can be mixed and matched allowing you to create the most creative design. The unique elliptical shaped panels are designed to form together, go on top of a fabric wrapped panel, or between the fabric wrapped panel.  Available in 6 standard contours 2"-4"-6"-8"-10" & 12" widths in corresponding radius details. The elliptical design, in conjunction with our foam-core material on a reflective backing, maximizes the acoustic. The Noise Reduction Coefficient, or NRC is a .90, will satisfy any acoustical requirements. If a higher rating is required a 1/4" – 1/2" air space between the panel and the wall, then panels can be created to get close to a 1.0.
Panels can be run vertically or horizontally, wall to wall and ceiling to floor. End cap are available if the end of the SWELL panel is exposed.
SWELL is designed for an efficient installation, most of the fabrication of your final design is completed in our shop and ready to install.
As the manufacturer and installer of a variety of wall-upholstery systems, DFB is committed to delivering products of the highest quality in the most sustainable way. We live up to this commitment with a rigorous program of quality control, customer service, and dependable installations. All of DFB's wall upholstery systems carry a one-year limited warranty.